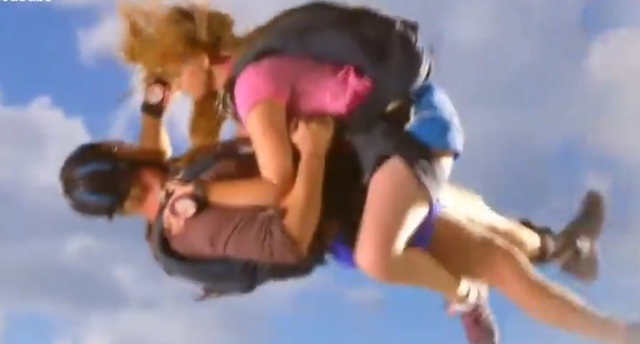 A couple of paratroopers, William and Lisley have told foreign media about an unusual and dangerous adventure. They had decided to have sex while parachuting.
"When it comes to sex I have different ideas. I think of all sorts of ways you can do it," said Lisley, while her partner added, "I want to fulfill her desires right away." .
They had kissed throughout the plane trip to 'warm up' things, before taking the next step in the air. Lisley has indicated that at first she was convinced that things would go for beauty.
"We were both wearing shorts and skirts and I thought it would be very easy," she said. But what happened?
As they were having intercourse in the air, William realized that his parachute was not opening. "We were having sex, we were fine but when I saw the ground I realized I was in trouble," he said.
He had broken away from Lisley and was heading towards the ground. William had attempted to open the parachute but was injured in the face during this moment. The parachute had opened at the last moment, but again he had fallen to the ground unconscious.
"When I saw him lying on the ground I thought he was dead," Lisley said.
"The first pains were in the face, in the left leg and between the legs. With that, parachuting could end, but I could never have sex," continued William, who then received help. medical in the hospital and is cured.
Burimi: "The Sun"