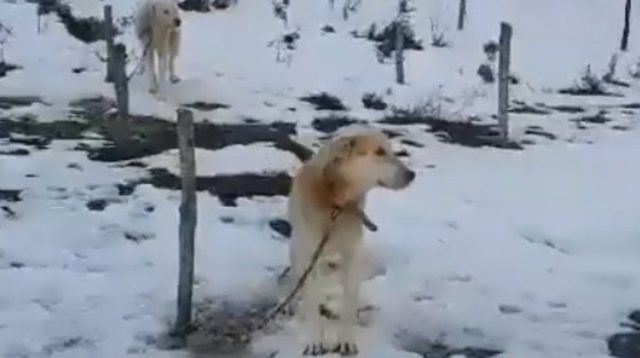 Animal rape continues to be a problem in our country. Despite numerous calls from animal welfare organizations, their mistreatment continues.
Animal Rescue Albania has published some videos filmed in Pogradec where some dogs are seen chained in sub-zero temperatures.
The organization reports that the Municipality of Pogradec has hired people to transport dogs to a warehouse in the suburbs where they were left in appalling conditions until they died.
View this post on Instagram
Organization status: "
Nese ka nje vend simbol ne vrasjen dhe trajtimin monstruoz te qenusheve qe kemi hasur gjate gjithe eksperiences tone ne ndihme te kafsheve, ky eshte Pogradeci.
Kemi dokumentuar vete se si Bashkia kishte punesuar nje person qe kapte dhe transportonte qenushet ne nje ish magazine ne periferi larg qytetit, e ku aty, ne ambiente tmerri qe vetem neper filma i kishim pare me pare, qenushet mbaheshin here lidhur e here zgjidhur, pa ushqim, te zhytur mes fekalesh, me tmerrin ne syte e tyre qe nuk mund te harrohet kurre. Qen te semure, kelyshe pa sy, derra e kuaj qe therreshin ne te njejtin ambient, sdo mund te na largohet kurre nga mendja. Arritem te largonim rreth 35 qen, ne temperaturen -12 grade dhe ne nje debore qe na paralizonte duart dhe mjetet për te levizur.
Morem premtimin nga Bashkia se kjo situate nuk do perseritej me, por ashtu sic edhe nuk kishim asnje dyshim, thjesht sa liruam vendin per shume e shume qenushe te tjere.
Sot pas 4 vitesh, jemi perpara nje situate thuajse identike. Nje tufe qensh te hedhur anes rruges, te ngrire nga i ftohti qe i mori jeten, pasi ishin lidhur ne nje prej rreth 40 trungjeve qe mbanin te lidhur ne mes te fushes rreth 40 qen, pa ushqim, pa uje, qe prisnin vdekjen nen debore e akull.
Personi, nje tjeter ish punonjes i Bashkise Pogradec, nje tjeter monster qe per arsye te perfitimit te disa kileve ushqim per qent, qe ja jepte derrave, mbante dhe torturonte qent qe kapte ne qytet.
Bashkia reagoi,
bashkia u zotua se ska gisht,
bashkia publikoi nje kallezim penal.
A duhet besuar bashkia Pogradec?
We do not know what really happened, but one detail stands out in the reaction of the municipality. Although they express indignation in their reaction, although in private communications they identify the guilt of their former employee, they still file an anonymous complaint, without a name or surname.
This action certainly shows that at least they do not want to go to the end of this story.
However, your reaction made them tremble, move, maybe stop.
We hope that these scenes will not be repeated again, we wish even though we can not believe this.
Please react, denounce.
Your voice scares them "